Chavo has to get his Giant Sanwich.
Characters
Hero: Chavo
Villains: Dog
Others: Cat, the red grasshopper, Chimoltrufia, Botija, Chompiras, doctor Chapatin, the nurse, Chaparron, Lucas, Mr. Prudencio, neigboor in the 14th door, Quico, Paty, Peluchin (dog), the neigboor of the 71th door (Witch), a man, the man in the 72th door, Chilindrina, Popis, the lady in the 42th door, a fruit seller, Gonzalo Rosano (frrom the 16th doors), Jaimito, professor Jirafales, Nono, a poor boy, baker
Trivia
This game was originally titled Chavo and the Christmas Present but it was changed as it was premiered after christmas.

The Inkagames crew revealed that they decided to make this game due to the passing of Chespirito (who was the creator of all the characters that appeared in the game except Gonzalo who is the Inka Winner for this game) and decided to make it the Christmas game as the holiday was closer turning Cody Jones and the rescue of Santa Claus the original christmas game that they were developing into Cody Jones Chocolate Factory.

The red grasshopper was also seen in one of Obama's games.
The dog shrinked because of the shrinking pill.
Batija punched/spinned Chompiras, because he made a joke on Batija's.
People in this village are very funny.
There were 3 sellers - but one was the baker.
Quico was seen in one of Obama's game.
Chavo always ran into trouble.
Chavo got a kiss from Paty and fell down.
Chavo had to dance the indian dance in order that he has water in his buckets.
Gonzalo was the winner of the Inka Christmas game.
Chavo made his own juice stand (from fresh fruit) to earn some money.
After Chavo got the sandwich, he couldn't eat it - because of the poor boy - so he gaved it to him.
In the end Chavo was invited on a dinner by Mr. Barriga and all of the other characters were there too.
Chavo has realized (in the end) that how nice it feels to give away something that is important to you.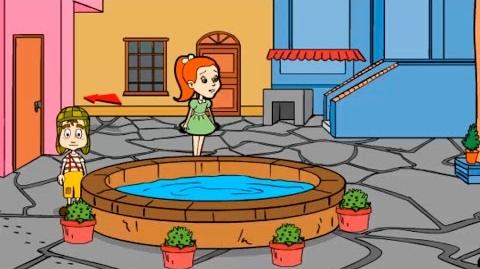 Link of the gamer:
Adelie Land Games
Ad blocker interference detected!
Wikia is a free-to-use site that makes money from advertising. We have a modified experience for viewers using ad blockers

Wikia is not accessible if you've made further modifications. Remove the custom ad blocker rule(s) and the page will load as expected.