Characters
Hero: Homer
Enemies: Pigsaw, Patty and Selma, death, Krusty, Smithers (as the devil), Burns, Snake, the guard dog, Burn's assistant.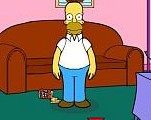 Others: small pig(become spider pig later), Santa's little helper, the old cat lady, Reverent Lovejoy, monkey, messi, Apu, Duffman, Duff cat, Mike Tyson, a seller from comic con, Grandpa Simpson, bumblebee man, SideShow Mel, Chief Wiggum, Leny, Capitan McAllister,Moe slyzaks,Charlie sheen(in Moe slyzaks's bar).
Trivia
This is the first time moe has been shown as a friend as in bart simpson saw, he is an enemy
Pigsaw mentions that homer didn't believe bart, when he was saying to Homer the truth
charlie sheen appears differently in the game - because he was in the world of Simpsons and was different in his own game: Charlie Sheen saw game
In the very end of the game, Homer had to fight against Burns and had to do a hole in the wooden window, while the sunlight came towards Homer and he just had to reflect it towards Burns, that he burned (like he was a vampire)
At the end of the game, the player could choose against two sides of ending: 
Treehouse of horror: Was when two alience were in their ship, talking to each other about the game, but still saying, how the characters are making fun out of them (like they were a joke), but someday, they will kiddnap all the children, that are playing Inkagames.
Springfield nightmare: All the Simpson's family came back to their home and sit on their cauch, when they were talking a bit and one of them said, that Homer should turn on the Tv, because it's Itchy and Scratchy show. But when he turns on, they all shocked and had their eyes opened wide (like something horrible has happened), but only Homer's dad, was sleeping. 
Ad blocker interference detected!
Wikia is a free-to-use site that makes money from advertising. We have a modified experience for viewers using ad blockers

Wikia is not accessible if you've made further modifications. Remove the custom ad blocker rule(s) and the page will load as expected.