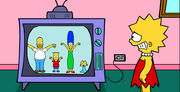 Characters
Hero: lisa
Villians: Kang, bullies(Jimbo, Kurney, Dolph, Francine), mutant pumpkin, Joker, Burns' dog , Chucky, Itchy and Scratchy, Krusty doll.
Others: Professor Frank, Milhaus, Mr. Bumbelbee (a ballon seller), Principal Skinner, Willie, Ralph, Lady Gaga, Apu, Sherry and Terry, a guard, Leopold (pig), mr. Murphy, Major Quimby, comic seller guy.
Trivia
even though the last game wth pigsaw in was pigsaw final game, he comes back in this game.
this is the first simpsons game since bart island escape, though bart and homer had a picture cameo in pigsaw final game.
lisa mentions seeing pigsaw in homer simpson saw.
lady gaga appears differently to how she appeared in lady gaga saw game.
In the game, there are mostly the people from the Simpson's series.
In the end of the game Lisa had to solve a math problem and type the correct code into a keylock.

15:52

Lisa Simpson Saw Game - Walkthrough
Ad blocker interference detected!
Wikia is a free-to-use site that makes money from advertising. We have a modified experience for viewers using ad blockers

Wikia is not accessible if you've made further modifications. Remove the custom ad blocker rule(s) and the page will load as expected.