Game description
The evil Pigsaw is back and will force Lisa to play his twisted game.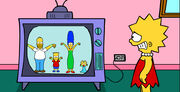 Characters
Hero: lisa
Villians: Kang, bullies(Jimbo, Kurney, Dolph, Francine), mutant pumpkin, Joker, Burns' dog , Chucky, Itchy and Scratchy, Krusty doll.
Others: Professor Frank, Milhaus, Mr. Bumbelbee (a ballon seller), Principal Skinner, Willie, Ralph, Lady Gaga, Apu, Sherry and Terry, a guard, Leopold (pig), mr. Murphy, Major Quimby, comic seller guy.
Trivia
In the end of the game Lisa had to solve a math problem and type the correct code into a keylock.
Link of the creator of the video: 
Escape Gameplays
Ad blocker interference detected!
Wikia is a free-to-use site that makes money from advertising. We have a modified experience for viewers using ad blockers

Wikia is not accessible if you've made further modifications. Remove the custom ad blocker rule(s) and the page will load as expected.