Now it's Maggie's turn to play Pigsaw's evil game.
Characters
Hero: Maggie
Victims: Homer, Marge, Bart and Lisa
Villains: Baby Gerald, an evil doll, two guards, Pigsaw
Others: A girl with an Ipad, a girl who like books, a boy with chemistry kit, a boy with painting kit, five boy riding toy car, some kids painting, a boy with box on head, a boy painting on wall
Trivia
All the babies that were in the nursery were characters from Simpson's.
For the use of the phone there weren't numbers, but shapes of toys.
At the end, Pigsaw revealed that he never kidnapped Maggie's family because he can't do that for a little girl.
In the end, Marge wondered how did Maggie came out and said, that she is not going to bring her back in the nursery again.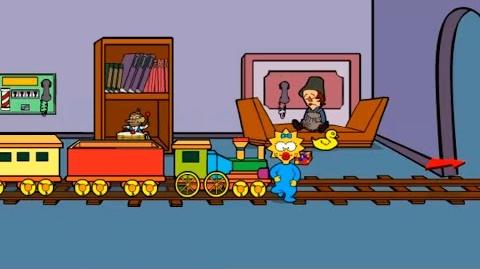 Ad blocker interference detected!
Wikia is a free-to-use site that makes money from advertising. We have a modified experience for viewers using ad blockers

Wikia is not accessible if you've made further modifications. Remove the custom ad blocker rule(s) and the page will load as expected.