Game description
The evil puppet Pigsaw is kidnapped by all his previous victims and is forced to play one of his wicked games. Will you help the puppet escape?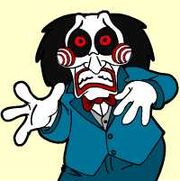 Characters
Trivia
Selena Gomez
is the only victim in the circle who does not have her own Saw Game.
Link of the creator of the video: 
Escape Gameplays
Ad blocker interference detected!
Wikia is a free-to-use site that makes money from advertising. We have a modified experience for viewers using ad blockers

Wikia is not accessible if you've made further modifications. Remove the custom ad blocker rule(s) and the page will load as expected.