Game description
The evil Pigsaw has kidnapped Gary, and Spongebob will have to rescue him before it's too late.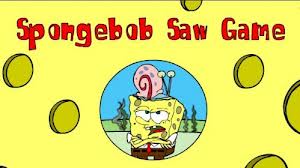 Characters
Hero: SpongeBob
Villains: Pigsaw,  Plankton, Flying Dutchman, King Neptune, bully.
Others: Patrick , Sandy, Squidward, Mr. Krabs, Karen , Citizen of Bikini Bottom, Boatman, Guard.
Trivia
This is the second time SpongeBob is playable (the first time was in Pigsaw Final Game).
Pigsaw again is refered to Ronald McDonald by SpongeBob.
This is probably the first time Pigsaw is being helped by the Hero's enemy (in this case, Plankton).
A picture of Obama can be found in Pigsaw's Room at the beginning of the game. However, in Pigsaw Final Game, the picture is of Bart Simpson.
In the begining, while SpongeBob was in the room, we could see small grey footsteps on the floor, that were going to the news paper (that was on the floor - where Gary slept).
Link of the creator of the video: 
Escape Gameplays
Ad blocker interference detected!
Wikia is a free-to-use site that makes money from advertising. We have a modified experience for viewers using ad blockers

Wikia is not accessible if you've made further modifications. Remove the custom ad blocker rule(s) and the page will load as expected.