Help Town escape from the puppet's evil game.
Characters
Hero: Town/ ITownGamePlay
Victim: Duck- Chicken
Villains: Freddy, Michael (aka Purple Guy), giant spider, Town animatronic, Puppet (from the box), Chica, Bonnie, venom, evil clown, Slenderman, Jeff the Killer, Pigsaw
Others: Marco Antonio Cervera, Scott Cawthon, Alkapone
Trivia
Freddy, Chica, Bonnie and the Puppet are from Five nights at Freedies.
Marco Antonio Cervera is the new Inka Game winner of comics.
There were 4 ghosts in some animatronic's.
In the end, when Town saved his beloved pet, he said Duck-Hen, as a short name for chicken.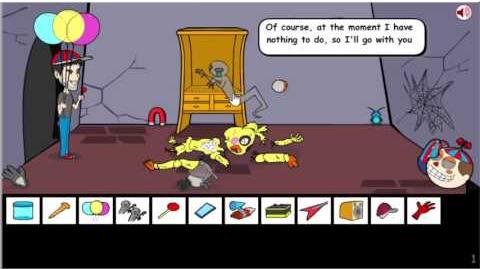 Ad blocker interference detected!
Wikia is a free-to-use site that makes money from advertising. We have a modified experience for viewers using ad blockers

Wikia is not accessible if you've made further modifications. Remove the custom ad blocker rule(s) and the page will load as expected.